How to start a successful membership program on Boon
A membership program is one of the best ways to build your community and get the financial freedom from a monthly recurring income.

Creating a membership program is one of the best ways to build your community, while also getting the financial security from a monthly recurring income.
We've put together this guide to break down the why, how and what behind memberships, and to help you decide if a membership program is right for you.
---
Why start a membership?
Memberships allow you to create a direct and meaningful relationship between you and your best audience members. Let's dive a bit deeper on why to consider a membership:
1. Secure a recurring revenue
Recurring revenue is every creator's dream, and the biggest financial benefit from offering your audience a membership. With memberships you make a sale one time, and then continue to get paid on a monthly basis.
Memberships can then become a part of your business, your mindset and your priorities. You set your own framework and prices, staying in control of what it takes to keep your financial future on track.
Memberships help you focus on long term revenue, versus only short term revenue from single events. On Boon you can still sell your content on a membership and pay per view basis, taking advantage of both short and long term revenue opportunities.  
2. Optimize your time and effort
Regardless of what you decide to offer in your membership, you'll be able to scale your efforts by producing the content once for all your members. 
Let's frame this with some context. Let's say you spent 15 hours creating a month of content. If you have 150 members paying $30 per month, you've made $300 per hour. If you have 400 members, that's $800 per hour. 
Memberships are a great way to offer both pre-recorded and live videos, so you can spend your time wisely against the revenue you're generating. Make sure to balance the overall time you spend on your Boon content with your other obligations (i.e. in-person events, marketing, taking care of the kids, etc).
3. Build and grow your community
The more engaged your audience is, the more they'll come back for more. And spread the word to their friends, family and network about how awesome you are, too.
Building a community of engaged followers directly supports retention, while also allowing your audience to make your content a part of their daily lives and schedules.
Here are a few membership program examples from some of our top creators (click the photo to visit their Boon profile):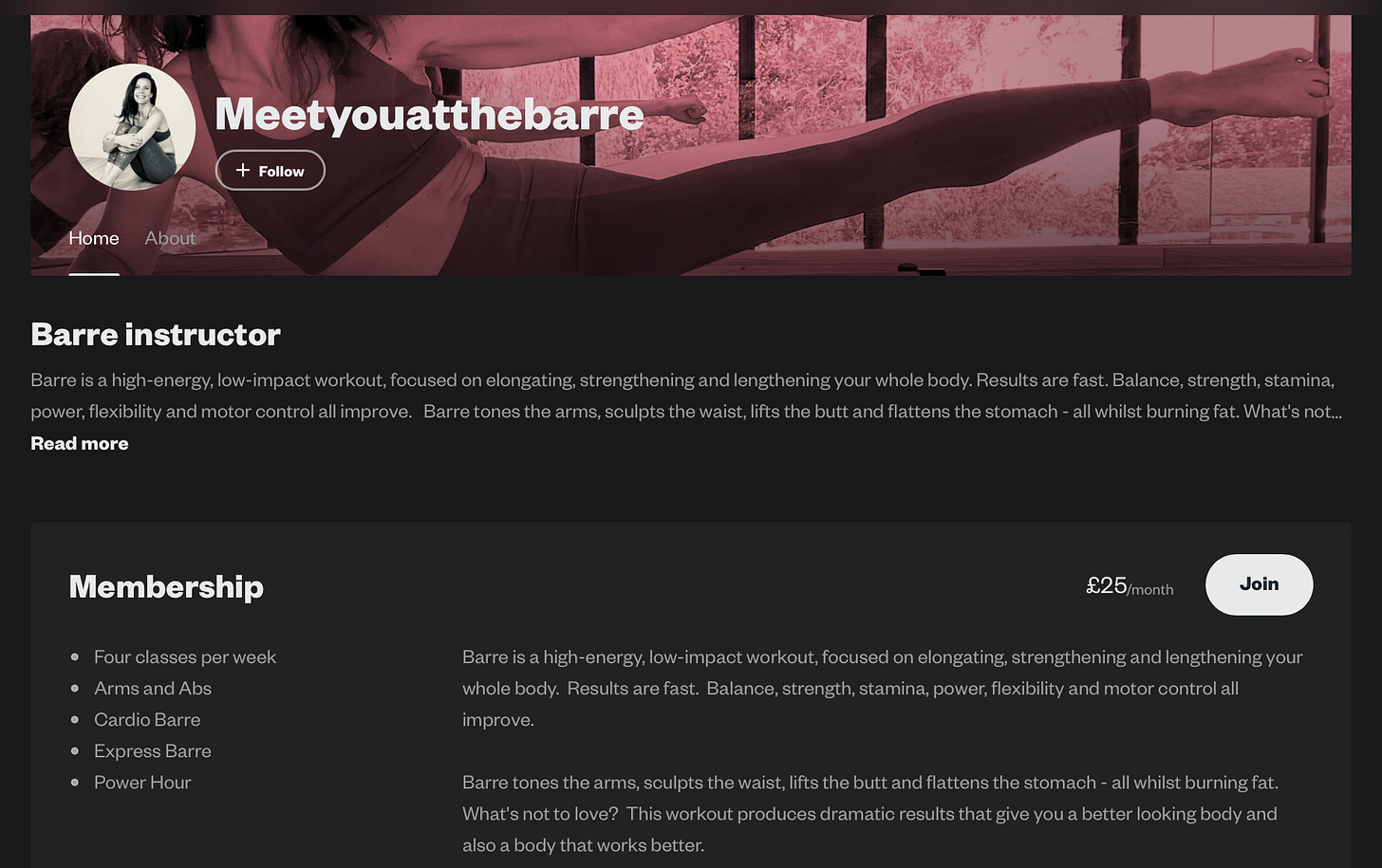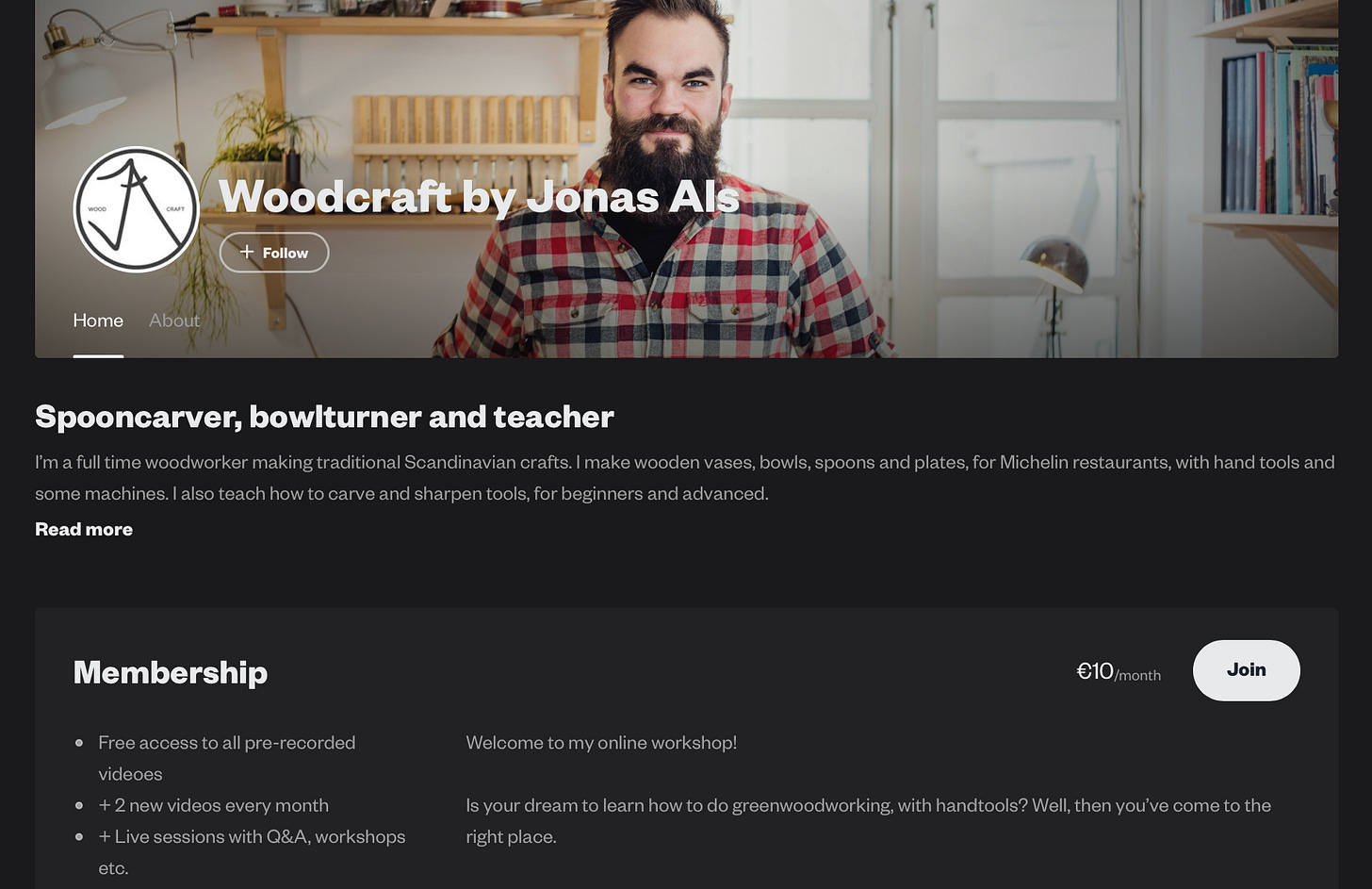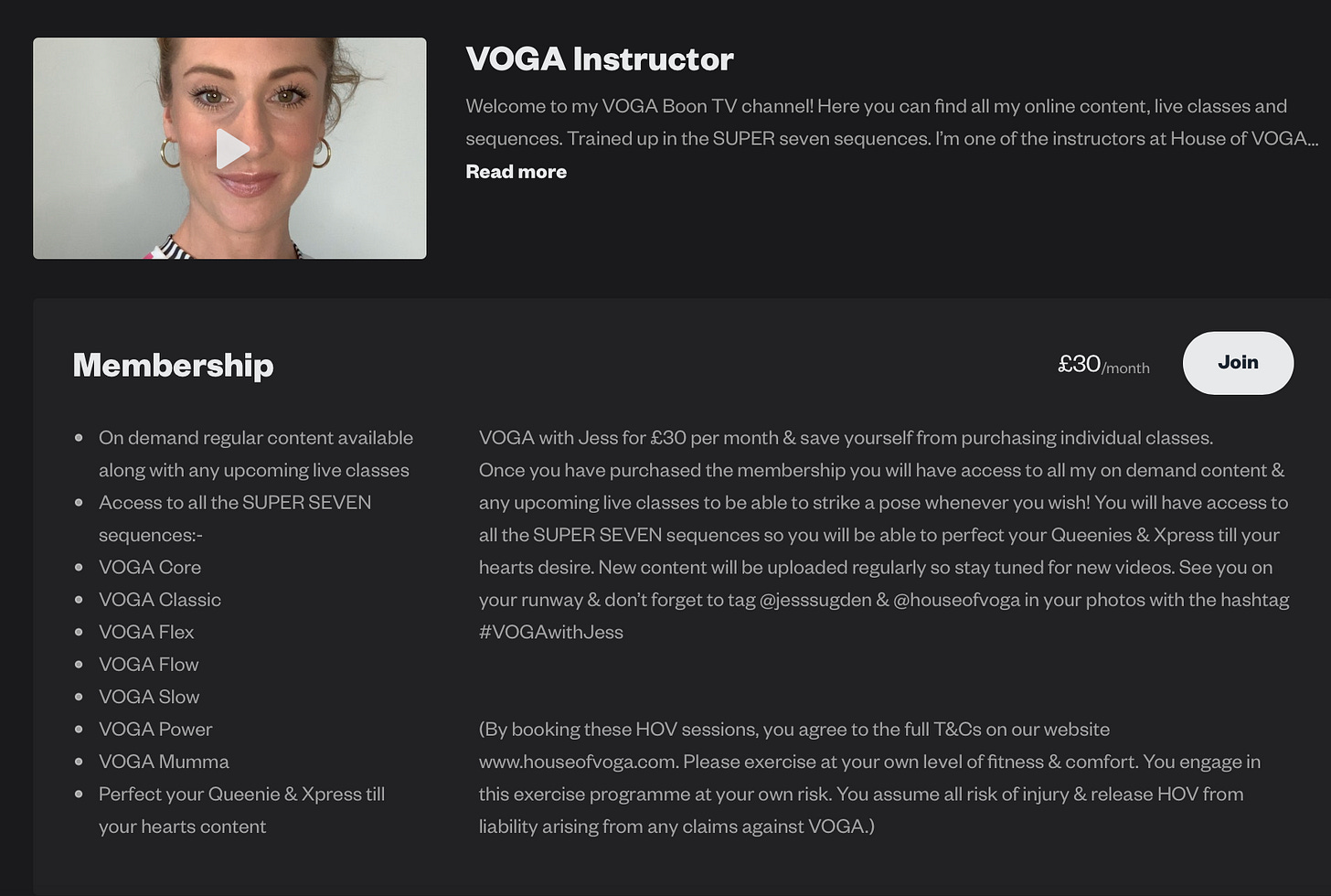 ---
How to make a membership? 
Here's a step by step overview to get started with memberships today.
Decide the format of your membership offerings: How many live events and pre-recorded videos do you want to offer? Remember to align this with your other personal or professional obligations, so you have the time and energy to create your best content.

Explain your membership offerings: Write a short text that describes your membership offerings, and pair this with some bullets so your members know exactly what they'll get.

Price your membership: Decide a price for your membership (More on this in the next section).

Send it to Boon: Send this info to your Creator Success Manager (or hello@boon.tv) to set up the membership for you. After we do the initial set-up, you can edit this afterwards by yourself.

Schedule your events: Once you're up and running, start scheduling your future events. We suggest planning your upcoming events 2-3 months in advance to keep your members engaged and get new members in the door as well.
---
How to price my membership?
The million dollar question we frequently get from creators is How should I price my membership?
Since every creator and their audience is different, there's no "one size fits all" answer to this one. But what we do say is that balance is key, and know your worth.
Don't set your prices too low because you feel your digital offerings aren't close to those you offer in the physical world — but bear in mind that a slightly lower price may attract more members than would be possible in the "real world."
One rule of thumb is to make sure there's a clear discount for memberships versus single events. Let's use a theoretical example to put it into context. If you offer a $25 monthly membership including 4 live events per week, but price your pay per view events at $5 each, there's a clear financial benefit from subscribing (i.e. approx. $1.50 per class as a member, versus $5.00 per class on a pay per view basis).
Some of our creators start with a lower intro price to test the waters. If you decide to do this, let your audience know this is an intro offer and it may increase over time. You could also consider running a promotional campaign and give the first 50 or 100 members a special intro price.
Here's how Soulm8s offers their audience a special introductory price and communicates this on their Instagram profile:

But most importantly - always know your worth.
Whether your audience is used to connecting with you in the virtual or physical world, they're there because of you and the amazing content and experiences you provide them with. So know your worth, and price accordingly.
---
If you're ready to get started with your own membership program today, sign up to become a creator here. And remember we're only a few clicks away at hello@boon.tv if you have any questions.